Hey movie fans, here's a mystery for you…
Every one who has seen the Transformers movie probably saw a preview for a movie with not title. Filmed to look like a home-movie, the setting is this: A party in recognition to a friend leaving town (going to Japan). The lights go out and a thunderous roar rocks New York city. On the roof the handheld camera films a huge (massive) explosion in downtown New York. Running down to the street they dodge the head of Lady Liberty rolling over cars. Little was shown, leaving viewers walking away from the theaters curious. Clues were said to have been left here and there in the trailer. I looked it up on YouTube under the name "Cloverfield movie". It quickly blew across the web as people like you and I performed some detective work.
The studio behind it is keeping it a secret, and the trailers on YouTube get taken down occassionally. You can find them by searching YouTube for 'Cloverfield' most times. That is the temporary title of the project.
The film is produced by J.J. Abrams, who made tricky shows like 'Lost' and 'Alias'.
There's another site that has been confirmed connected to the movie, and a source of many clues, at http://www.slusho.jp/. 'Slusho' was a fake company that Abrams has used before, but this time it's crazy. If you read the history on the slusho site, you learn about two people who went to the depths of the ocean to find an ingredient that can turn them into whales (large sea creatures). There are also sorts of weird clues or fake clues on the site, like a horse dreaming of a blue oven mitt, and a fish dreaming of swiss cheese.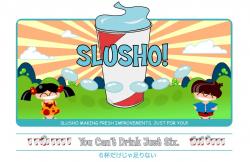 All the movie fans on the web are buzzing about it.
The first 'official' site is http://www.1-18-08.com/, presumably the release date. All it has are a few pics, perhaps clues, but no cast, director, nuttin'. Oh, and each picture has a time stamp, which might mean something, be a longitude/latitude for example.
Here are some sites with good information:
cloverfieldclues.blogspot.com/
movies.ign.com/articles/801/801593p1.html
http://www.slashfilm.com/2007/07/16/cloverfield-title-revealed-set-photos-the-origin-of-slusho-video-and-more/
one-eighteen-oh-eight.blogspot.com/search/label/Slusho
en.wikipedia.org/wiki/Cloverfield
www.rottentomatoes.com/vine/showthread.php?t=566585&highlight;=cloverfield
http://www.bloopwatch.org/thebloop.html
http://en.wikipedia.org/wiki/Bloop
(the 'bloop' is the name of a sound actually recorded underwater, and believed to be that of a massive living creature not yet found. Some people think it's related)
Note: these sites do NOT have anything to do with the movie, though at one time seemed mysteriously connected:
www.theparasite.com/
www.ethanhaaswasright.com/
www.ethanhasswaswrong.com/
What seems true so far:
Giant Monster involved
Handheld vidcamera view
Whatever's in the trailer.
All of that is up for discussion.
Slusho.jp connection (lots of them)
Tags: cloverfield, Movie Reviews, slusho